The Milwaukee Area Science Advocates (MASA) is a science advocacy nonprofit that was started in 2017 by a small group of STEM enthusiasts who believe that science can bring people together. They've grown quickly, and now have dozens of volunteers who reach out to their community in areas ranging from urban gardens and keeping Lake Michigan clean to the Maker movement and science policy. ESAL spoke with MASA's president and co-founder, Nora Sadik.
CS: How did MASA come together?
Sadik: A few of us helped organize the Milwaukee March for Science, where we had about 3,000 people come out and, at the end of it, we had raised close to $10,000. Afterward we were like, well, we should start a nonprofit. So we did!
Our mission is to increase scientific enthusiasm, understanding, and legislative value in the Milwaukee area. We encourage people to be enthusiastic about science and learn about scientific concepts that have an impact on their homes and their community at large. We want to help increase their scientific literacy and curiosity.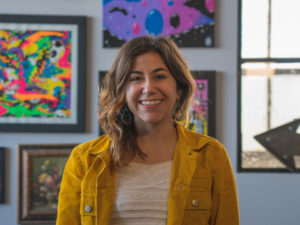 CS: How do you figure out what MASA should work on?
Sadik: The cool part is helping to get projects started. That means getting out and having conversations in the community, and talking to people who are starting something where we could have a potential partnership. We play around with the possibilities of how that partnership could work and what we are trying to accomplish. Often that involves figuring out what we want as the program outcome, and where we see ourselves in terms of responsibility.
CS: Can you give me an example of a partnership that's worked well?
Sadik: One of the most rewarding partnerships that I've had the opportunity to cultivate has been with our Unleaded program. We partnered with COA Youth & Family Centers, Hunger Task Force, Dominican Center, and others to create an educational event on lead and health. We had teams conduct community workshops where each partner honed in on a particular topic. For instance, Hunger Task Force talked about lead uptake as it related to how the nutrition, or malnutrition, of a child impacts how they absorb lead.
MASA provided more of a foundational scientific understanding of where lead comes from, why it's in use, and how people can correctly interpret what health care professionals tell them. We also did the overall coordination, such as creating a program, figuring out who can come to give presentations, and getting local organizations to do child lead testing and provide water filters. There were about 10 groups that contributed, and we were the link that made the event possible.
It was a long process and it showed us that if you want to have a successful program, it's really about creating a strong relationship with the community that you're trying to serve. The particular community for this event has a history of nonprofits coming in, working a little bit, and then kind of heading out without really doing much. They're used to people who make promises and then not help. It was intimidating to have people in the community questioning you and not trust you. The most rewarding part of the experience is that we're still working with those groups and creating a long-term program that started from that one initial event.
CS: Are there other lessons that you've learned in running MASA?
Sadik: You can't do everything. You have to carefully choose what to take on and produce quality programs if you want to expand. Creating successful programs involves really encouraging and empowering people. Giving them the power to take action creates an understanding that they can make a contribution and we're all trying to work towards the same outcomes. People can take a task and just run with it, and it's awesome! It's cool to see a person who was kind of quiet really take on a project and explode.
CS: What advice would you have for scientists and engineers who want to get more involved in their communities?
Sadik: It sounds cliché, but there is no time like the present. I think that a lot of times we're just waiting for someone to approach us with an opportunity. And sometimes it won't happened. You have to create it. If you want to invest in your community, do it. I mean, that's really all it is.