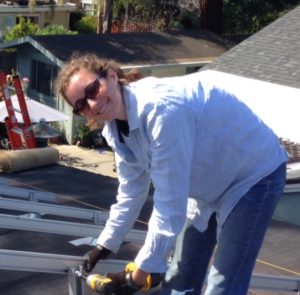 Aimee Bailey holds the position of Principal, Grid Innovation at EDF Innovation Lab, and has prior energy-related experience in San Francisco Bay Area at PG&E, kWh Analytics, and as a Resource Planner for the City of Palo Alto. In 2012-13 she was a Henry Luce Scholar at the Global Environmental Institute in Beijing. Prior to this, she held a AAAS Science & Technology Policy Fellowship, working in the Solar Energy Technologies Program at the U.S. Department of Energy. Aimee was a "guest of honor" at an ESAL Bay Area event in April.
What is your STEM background, and do you consider your current professional position to be in a STEM field?
I have a B.S.E. in materials science and engineering and a Ph.D. in condensed matter theoretical physics. My current professional position is in a STEM field. I work at the intersection of technology, policy, and business to advance the decarbonization of the energy system.
Have you engaged with your local community?
Yes! I worked at Palo Alto Utilities for more than two years as a resource planner, where I led the strategic plan for local solar energy, managed the emerging technologies program, and carried out strategic analysis to inform development of climate policy. Through that position, I regularly engaged with community members and stakeholders, commissioners, and city council members. As a city staff member, my primary goal was to develop policy proposals for the city council's consideration, and to be a resource to enable city leadership and elected officials to make informed decisions about energy policy.
How did you become interested in local government and civic engagement?
I love Amy Poehler and Parks & Rec.
What do you think is the most rewarding thing about being engaged in communities?
For me, the most rewarding thing about being engaged in local communities is the day-to-day interaction with community members and stakeholders. Local government is messy and involves people sharing their opinions and viewpoints from many different perspectives. I loved the challenge of sorting out the "mess," identifying common ground, and developing creative policies and proposals that effectively took into account the various stakeholders' concerns.
And what is the biggest challenge to having a local impact?
Patience. It can take years to enact change at the local level. Often city councils have many competing priorities, and it may not be possible for city staff and council to immediately review the issue that you care about. Having a local impact is a long-term commitment.
What advice would you give other STEM-trained professionals who want to become more involved and engaged in their local communities?
Please see my "Top Ten Tips for Getting Involved in City Government".
Anything else you'd like to share?
Being a part of your community and engaging in local government is fun. Enjoy it!