Professor connecting science to legislation and students and research to civic engagement
Michael Hendricks is an advocate for civic engagement who particularly emphasizes integrating STEM into the legislative process. He helped orchestrate the foundation of the MOST Policy Initiative, designed to infuse scientific research and evidence-based approaches into the bills passed by the Missouri Congress.
Hendricks' expertise extends into the world of academia, where he serves as an assistant professor in the Department of Politics and Government at Illinois State University. In this role, he has led groundbreaking research and educational advancements. Beyond research, he is dedicated to teaching, mentoring, and engaging in continuing education classes. These efforts reflect his passion for fostering personal and intellectual growth within the community.
JL: Could you describe the teaching schedule for a political science professor like yourself?
Hendricks: In this role, one engages in instructing a diverse range of subjects. There are foundational classes introducing students to the political concepts in various regions, such as Latin American and Central American Politics. These courses lay the groundwork for a comprehensive understanding of the subject matter and expose undergraduate students to these regions' politics, economics, and cultures.
But then, the schedule takes an exciting turn, offering more specialized classes tailored to students' interests. Here's where my experience with MOST Policy Initiative truly comes into play. I get to delve into subjects like civic and community engagement in one of my favorite courses, a graduate seminar on community development – a course where real-world applications and academic theories meet.
Perhaps the highlight of my undergraduate teaching experience is a course I designed during my graduate studies. This class revolves around drug trafficking and international security, exploring its far-reaching influences. I had the opportunity to sculpt every aspect of this course, from the readings and assignments to the minor details of curriculum development. The engagement it garners from students always makes this class a rewarding experience, combining serious scholarly exploration with lively discussion and exploration. It's a unique fusion of my academic journey and the present teaching experience that makes this part of my schedule particularly gratifying.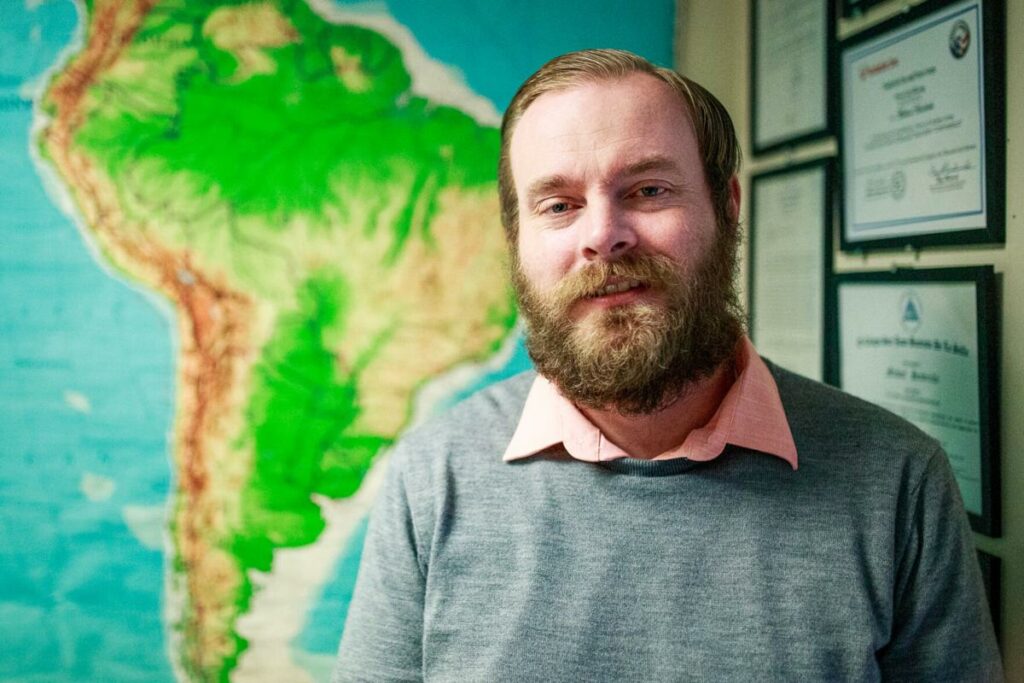 JL: In addition to your teaching responsibilities, I understand you're also deeply involved in research. Could you tell us more about the subjects you explore and the tangible outcomes of your work?
Hendricks: My research primarily concentrates on resource extraction in Latin America, a subject that is both multifaceted and impactful. I'm particularly interested in the extraction process's effect on the public and how people perceive the threats or opportunities associated with mining.
One of the major milestones in my research journey is the co-authored book titled "The Roots of Engagement: Understanding Opposition and Support for Resource Extraction." This book stands as the first comprehensive examination to measure social engagement within organizations and directly link that engagement with attitudes about extraction and development.
Within the book, readers will discover a trove of original insights gathered from public opinion surveys and interviews conducted in three key sites of protracted conflict: Peru, South Africa, and Nicaragua. These case studies allow us to delve into individual-level approaches to attitudes about mining, reflecting the complex interplay between societal values, economic imperatives, and environmental considerations.
But my scholarly pursuit doesn't end with resource extraction. I've also extensively researched peacekeeping effectiveness, examining its real-world impacts on saving lives and protecting civilians. My findings are not merely theoretical or empirical; they have practical implications for international peacekeeping operations. Understanding these dynamics can inform better strategies and more targeted interventions, enhancing the ability of peacekeeping forces to foster stability and protect those most vulnerable.
JL: You've built an impressive body of work over the years, but your true passion lies in teaching. How do you nurture and manifest this passion?
Hendricks: Teaching is more than a profession to me; it's a calling to inspire and empower. I attend Inclusion, Equity, Diversity, and Access workshops and training to make my material more inclusive and accessible, specifically focusing on supporting Latinx students. Recognizing the unique challenges they may face, particularly for first-generation college attendees in a Midwestern school, I work to create an environment where they feel valued and included.
Additionally, I act as an academic mentor, guiding students through the graduate process and collaborating with them on research and other responsibilities. This mentorship goes beyond mere guidance; it's about fostering growth, independence, and confidence. It's this multifaceted engagement with my students, coupled with a commitment to continuous learning and cultural awareness, that keeps my passion for teaching alive and resonant.
JL: How will you continue to support STEM engagement during your teaching career?
Hendricks: My commitment to STEM engagement extends beyond the classroom and is deeply interwoven with my broader educational philosophy. As an active board member of MOST Policy Initiative, I have a platform to advocate for and support the STEM community. My role with MOST allows me to contribute strategically, ensuring that STEM remains a vital and integrated part of policymaking and education.

For more information on the MOST Policy Initiative, see ESAL's interview with Rachel Owen.